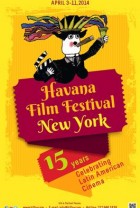 15th Annual Havana Film Festival New York – Special Event
Monday, April 07, 2014
Beatrice Theatre
6:00 pm
The Havana Film Festival New York (HFFNY) collaborates with Havana's International Festival of New Latin American Cinema to introduce its audience to prominent and emerging filmmakers by showcasing the latest award-winning films and classics from and about Latin America, the Caribbean and the U.S. Latino community. HFFNY seeks to cultivate audience-artist dialogue through panel discussions designed to give a behind-the-scenes look at an industry that continues to gain global recognition. The festival program offers directors, actors and producers an opportunity to exchange ideas, enriches and expands the vision of Latino culture and provides a multi-cultural experience for a diverse audience.
For more information on HFFNY, visit  http://www.hffny.com/ 
THIS SPECIAL EVENT IS FREE AND OPEN TO THE PUBLIC
APRIL 7, 2014
6pm , Short Films By Emerging Cuban Filmmakers / Cortos de jóvenes directores cubanos 
Introduced by Marí­a Julia Grillo, Academic Director of the International School of Film and TV of San Antonio de los Baños, Cuba. RT: 70min
Camionero / Truck Driver
Sebastian Miló | Cuba | 2012 | Fiction | 25min | Short
At a boarding school, Raidel is witness to the bullying of his schoolmate Randy.
En un internado, Raidel es testigo de los abusos a los que es sometido su compañero Randy. Awards: Best Short, Showcase of Young Cuban Filmmakers; Official Selection, Clermont-Ferrand.
Tarde para Ramón / Too Late
Daniel Chile | Cuba | 2013 | Fiction | 10min | Short U.S. Premiere
Ramón, a Havana taxi driver, has a broken and distant relationship with his daughter Laura. He sets off to meet her, a moment that will decide their lives.
Ramón, taxista habanero, desde hace varios años tiene una relación distante y quebrada con su hija Laura. Cuando decide ir a su encuentro, ese instante decidirá sus vidas.
La trucha / The Trout
Luis Ernesto Doñas | Cuba | 2013 | Fiction | 20min | Short | U.S Premiere
During the day, Pilar assists the principal dancers of the Cuban National Ballet. At night, she makes her living as Gloria The Trout. Ramoncito ruins her plans." Español
7:30pm – Panel: New Horizons on Contemporary Cuban Cinema: An Open Dialogue / Nuevos horizontes en el cine cubano contemporáneo: un diálogo abierto 
Departing from decades of a unique production model facilitated by the renowned Cuban Film Institute (ICAIC), today young and emerging Cuban filmmakers are exploring new ways by joining the creative waves throughout the world. Are these parallel or converging universes? Should a national cinema be consigned to traditional production models or should it be allowed to explore new methods? Who are the audiences watching Cuban movies today? These are some of the issues to be discussed in an exceptional open dialogue that for the first time brings together some of the most relevant filmmakers in today's Cuban cinema.
Confirmed panelists: Director Kiki Alvarez (Jirafas), Gerardo Chijona (Esther en Alguna Parte), Carlos Lechuga (Melaza), and Jorge Perugorria (Se Vende); Casting Director Libia Batista; and Independent Producer Claudia Calviño. Simultaneous translation available.