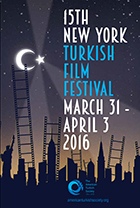 15th Annual New York Turkish Film Festival
Thursday, March 31, 2016 -
Sunday, April 03, 2016
Reserve Tickets
The American Turkish Society is proud to present the 15th annual New York Turkish Film Festival. We believe that film is a powerful tool to bridge cultures and illuminate the universality of the human experience. This year we will be screening 8 carefully curated films between Thursday, March 31 and Sunday, April 3:
Nadide Hayat/A Unique Life by Çağan Irmak
Bulantı/Nausea by Zeki Demirkubuz
Motör/Remake, Remix, Rip-Off by Cem Kaya (2015 Edinburg International Film Festival Best Documentary Feature Film Nominee, 2015 Hawaii International Film Festival Halekulani Golden Orchid Award Nominee)
Sivas by (Turkey's Official Entry for Best Foreign Language Film in the 2016 Academy Awards, World Premiere at 71st Venice International Film Festival and Special Jury Prize, Abu Dhabi, International Film Festival Best Actor Award and Child Protection Award for Best Script)
Sarmaşık/Ivy by (2015 Antalya Golden Orange Film Festival Best Film, Best Director, Best Screenplay, and Best Actor, 2015 East End Film Festival Best Film, screened at Sundance Film Festival)
Limonata/Lemonade by Ali Atay (2015 Istanbul International Film Festival Best Turkish Film Of The Year Nominee)
Mustang by Deniz Gamze Ergüven (French Entry for Best Foreign Language Film in the 2016 Academy Awards, 2016 Golden Globes Best Motion Picture , Foreign Language Nominee, 2015 Cannes Film Festival Official Selection, 2015 Toronto International Film Festival Special Selection)
Kar Korsanları/Snow Pirates by Faruk Hacıhafızoğlu (2015 Berlin Film Festival Crystal Bear Nominee, 2015 Singapore International Film Festival Silver Screen Award)
For tickets, click the ticket icon above or visit www.americanturkishsociety.eventbrite.com.
For general festival information, visit http://www.newyorkturkishfilmfestival.com/.