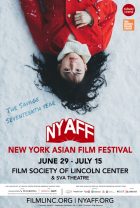 17th New York Asian Film Festival
Friday, July 13, 2018 -
Sunday, July 15, 2018
Reserve Tickets
The Film Society of Lincoln Center and Subway Cinema have announced the 17th edition of the New York Asian Film Festival (NYAFF), June 29 , July 15, 2018.
The New York Asian Film Festival is co-presented by Subway Cinema and the Film Society of Lincoln Center and takes place from June 29 to July 12 at the Film Society's Walter Reade Theater (165 West 65th St), and July 13 to 15 at SVA Theatre (333 West 23rd St). It is curated by executive director Samuel Jamier, deputy director Stephen Cremin, programmers Claire Marty and David Wilentz, and associate programmers Karen Severns and Mori Koichi.
From vicious, life-destroying phone scams to balletic battles between equally corrupt cops and yakuza, NYAFF offers films that reflect on contemporary society while offering extreme genre pleasures. There are self-referential takes on cinematic zombies, existential date nights, and teens finding their own corners of the world despite familial and societal expectations. After last year's Sweet Sixteen, this year's program is dubbed the Savage Seventeenth edition with four world premieres, three international premieres, 21 North American premieres, three U.S. premieres, and twelve New York premieres, showcasing the most exciting comedies, dramas, thrillers, romances, horrors and arthouse films from East Asia.
For a full schedule and more information, please click the ticket icon above or visit https://www.nyaff.org/.