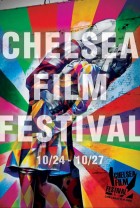 2013 Chelsea Film Festival
Thursday, October 24, 2013 -
Sunday, October 27, 2013
Reserve Tickets
The Chelsea Film Festival is an international film festival, enlightening the work of emerging filmmakers, producers and actors. It offers a wide range of films, such as documentaries and feature-lengths, focusing on the theme of "Global Issues". It empowers the work of risk-taking storytellers and remains committed to its mission to discover and develop independent artists and audiences around the world.
The Chelsea Film Festival is an event consisting of four days of screenings of independent shorts, feature-lengths and documentaries from emerging directors. In between sessions, we will be hosting Q&A sessions, and related events such as an industry mixer for professionals.
For tickets and information, please visit www.chelseafilm.org.