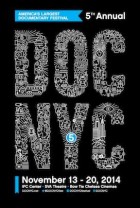 2014 DOC NYC Festival
Thursday, November 13, 2014 -
Thursday, November 20, 2014
Reserve Tickets
Attention DOCNYC Filmgoers!!  All inquiries, including those regarding tickets, must be emailed to [email protected], or you can call 212-924-5246.  The SVA Theatre office is unable to provide information on this festival.
For DOC NYC general information, and to purchase tickets, please visit docnyc.net or click on the ticket link above.
DOC NYC box office hours and information can be found on this page: http://www.docnyc.net/get-tickets/
WHAT IS DOC NYC?
Documentary storytelling is flourishing like never before , encompassing reportage, memoir, history, humor and more. DOC NYC celebrates this cultural phenomenon and encourages its new directions.
MISSION STATEMENT
Among its missions, DOC NYC aims to:
CURATE: guide audiences toward inspiring work.
CROSS FERTILIZE: gather practitioners of many fields , filmmakers, writers, photographers and other storytellers to inspire each other.
CROSS GENERATIONS: use the festival's partnership with School of Visual Arts as a means for younger and older voices to communicate.
CULTIVATE NEW AUDIENCES: attract newcomers with the excitement of a festival atmosphere.
EXPAND DISTRIBUTION: help documentary storytellers make the most of emerging technologies such as video downloads, podcasts and electronic readers.
CREATE SOCIAL SPACE: bring people together in theaters, lounges, and discussion spaces in Greenwich Village and Chelsea.
MAKE THE MOST OF NYC: foster fresh connections between residents and expose visitors to the opportunities that happen only in New York.
For the past ten years, the team behind DOC NYC has been building a community around the weekly documentary film series Stranger Than Fiction at the IFC Center. In four years, DOC NYC has become the country's largest documentary festival with over 130 films and events; and over 100 special guests. "DOC NYC has quickly become one of the city's grandest cinema events," wrote the Wall Street Journal.