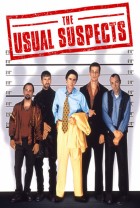 20th Anniversary Screening of "The Usual Suspects"
Tuesday, September 15, 2015
Silas Theatre
7:30 pm
Reserve Tickets
Please join the School of Visual Arts for a special 20th anniversary presentation of Bryan Singer's iconic, Academy Award-winning film, The Usual Suspects, shown on the big screen. The film premiered on September 15th, 1995.
This is a special lead-in event to After School Special 2015: SVA's Alumni Film & Animation Festival, celebrating SVA alumnus Bryan Singer's (1986 Film & Video) directorial achievement.
Synopsis:  A sole survivor tells of the twisty events leading up to a horrific gun battle on a boat, which begin when five criminals meet at a seemingly random police lineup.   Starring Kevin Spacey, Gabriel Byrne, Benicio Del Toro, Stephen Baldwin, and Kevin Pollak. Running time: 106 minutes.
The Usual Suspects is rated R.  The film may not be suitable for children, and we ask parents not to bring children under the age of ten.
Ticket Information
This event is free and open to the public. Seating is on a first-come, first-served basis. An Eventbrite reservation does not guarantee you a seat. General Admission RSVPs through Eventbrite are appreciated, but not necessary. Click here or on the ticket icon above to RSVP. You do not need to show your Eventbrite reservation for admission. Doors will open at approximately 6:45PM.
Concessions Information
Concessions are not available for purchase at SVA Theatre. Guests are welcome to bring food and drink. Glass bottles are not permitted.
Please contact [email protected] with questions.