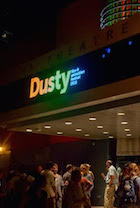 27th Dusty Film & Animation Festival
Saturday, May 07, 2016 -
Tuesday, May 10, 2016
Reserve Tickets
The 2016 Dusty Outstanding Alumni Award recipients have been announced!
Tom Sito, BFA 1977 Media
Animator and Historian
(Who Framed Roger Rabbit?, Beauty and the Beast, Shrek)
Mark Ulano, 1975 Film & Video
Academy Award winning Production Sound Mixer
(The Hateful Eight, Iron Man, Titanic)
Since 1990, the School of Visual Arts' Dusty Film & Animation Festival has become one of the world's foremost events to discover exceptional new talent in film and animation. The Dusty Film & Animation Festival gives BFA Film and BFA Animation thesis students the unique opportunity to exhibit their work to industry professionals, family and friends. The festival culminates in our eminent Dusty Awards, attended by celebrities and distinguished guests from the film and animation industries.
We will be live streaming the Dusty Awards on Tuesday, May 10 starting at 6:30pm EST, here on our homepage.
2016 Dusty Awards Presenters include: Academy Award-winning screenwriter Josh Singer (Spotlight, The Fifth Estate, The West Wing), actress/producer/director Trudie Styler (American Honey , Official Selection for the Festival de Cannes 2016, Freak Show, The Seagull), director/writer/producer Mark Osborne (The Little Prince, Kung Fu Panda, The SpongeBob SquarePants Movie), Academy Award-winning production sound mixer Chris Newman (The Godfather, The Exorcist, Amadeus), Emmy Award-winning documentary filmmaker Laurens Grant (The Black Panthers: Vanguard of the Revolution, Freedom Riders), writer/director Ti West (The House of the Devil, Wayward Pines, VHS), editor Aaron Yanes (Tyson, You Don't Know Jack, Europa Report), director of photography Michael Simmonds (Nerve, White Girl, Vice Principals), animator Howard Beckerman (Boop-Beep), producer and New York Women in Film & Television president Alexis Alexanian, IFP program manager and producer Zach Mandinach, and filmmaker Neil Burger (Limitless, The Illusionist, Divergent, Billions).
Animation screenings will take place on Sunday, May 8.
Film screenings will take place on Saturday, May 7 , Monday, May 9.
All screenings are free and open to the public.
We invite you to share in this event.
Producer/Director: Annie Flocco
You can find us on Facebook and Twitter.