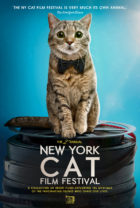 3rd Annual NY Cat Film Festival
Sunday, November 03, 2019 12:00 pm
Reserve Tickets
The annual Cat Film Festival™ is a philanthropic celebration through film of our relationship with the mysterious felines who share our world.
12:00 PM – Program #1 "Cats Cradle" (1 hr 15 min)
1:30 PM – Program #2 "Nine Lives" (1 hr 15 min)
The 2 programs are completely different – each a medley of films celebrating the fascinating mystique of felines. To have the full Cat Film Festival experience you'll want to see both programs – which are appropriate for everyone in the family.
Tickets are non-refundable. Everyone in the audience will receive a gift at the door
For tickets click here.
For more information click here.
A portion of every ticket benefits the NYC Feral Cat Initiative