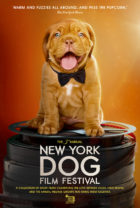 5th Annual NY Dog Film Festival
Sunday, November 03, 2019 3:30 pm
Reserve Tickets
The Dog Film Festival™ is an annual celebration of the love between dogs and their people through short films from around the world that inspire, educate and entertain.
3:30 PM PROGRAM #1 "Puppy Love" (1 hr. 17 min)
5:00 PM PROGRAM #2 "Man's Best Friend" (1 hr. 15 minutes)
The 2 programs are completely different – each a medley of films celebrating the love between dogs and their people. To have the full Dog Film Festival experience you'll want to see both programs – which are appropriate for everyone in the family.
Tickets are non-refundable.
For tickets click here.
For more information click here.
A portion of every ticket benefits the Mayor's Alliance for NYC's Animals
These films are free of physical or verbal abuse toward people or animals. The only tears you might shed would be tears of joy for happy endings. The films can be watched by all members of the family, but are intended for adult audiences as some films have sophisticated ideas and subtle themes. Although the programs are not designed for children, the films can be appreciated by mature children who have been exposed to worldly cultural events, including"foreign-type" films.