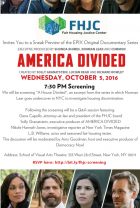 "A House Divided" Screening and Q&A
Wednesday, October 05, 2016 7:30 pm
Reserve Tickets
The Fair Housing Justice Center invites you to a sneak preview of "A House Divided," an excerpt from the EPIX Original Documentary Series, AMERICA DIVIDED, executive produced by Shonda Rhimes, Norman Lear, and Common, and created by Solly Granatstein, Lucian Read, and Richard Rowley.
In "A House Divided," Norman Lear goes undercover in NYC to investigate housing discrimination.
Following the screening will be a Q&A session featuring:
Gene Capello, attorney-at-law and president of the FHJC board
Solly Granatstein, executive producer of AMERICA DIVIDED
Nikole Hannah-Jones, investigative reporter at New York Times Magazine
L.B. Williams, actor and seasoned fair housing tester.
The discussion will be moderated by Amy Goodman, host and executive producer of Democracy Now!
This event is free and open to the public. Click the ticket icon above or click here to RSVP.