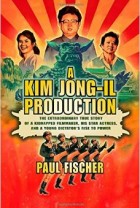 A Kim Jong-Il Production
Wednesday, February 04, 2015
Beatrice Theatre
6:45 pm
Reserve Tickets
THIS EVENT WAS ORIGINALLY SCHEDULED FOR 1-27-15 AND HAS BEEN RESCHEDULED.
Please join the School of Visual Arts for a special Filmmakers Dialogue event….
A Kim Jong-Il Production:  A discussion with Paul Fischer, author of the newly released book A Kim Jong-Il Production and a screening of My Mother and Her Guest (1961), directed by Shin Sang-Ok.
Synopsis of A Kim Jong-Il Production by Paul Fischer:  Before becoming the world's most notorious dictator, Kim Jong-Il ran North Korea's Ministry for Propaganda and its film studios. Conceiving every movie made, he acted as producer and screenwriter. Despite this control, he was underwhelmed by the available talent and took drastic steps, ordering the kidnapping of Choi Eun-Hee (Madam Choi)""South Korea's most famous actress""and her ex-husband Shin Sang-Ok, the country's most famous filmmaker.  Madam Choi vanished first. When Shin went to Hong Kong to investigate, he was attacked and woke up wrapped in plastic sheeting aboard a ship bound for North Korea. Madam Choi lived in isolated luxury, allowed only to attend the Dear Leader's dinner parties. Shin, meanwhile, tried to escape, was sent to prison camp, and "re-educated." After four years he cracked, pledging loyalty. Reunited with Choi at the first party he attends, it is announced that the couple will remarry and act as the Dear Leader's film advisors. Together they made seven films, in the process gaining Kim Jong-Il's trust. While pretending to research a film in Vienna, they flee to the U.S. embassy and are swept to safety.  A nonfiction thriller packed with tension, passion, and politics, author Paul Fischer's A Kim Jong-Il Production offers a rare glimpse into a secretive world, illuminating a fascinating chapter of North Korea's history that helps explain how it became the hermetically sealed, intensely stage-managed country it remains today.  Paul Fischer is a film producer (Radioman, The Body, Tarzan & Arab, Its Walls Were Blood) and writer.
Synopsis of My Mother and Her Guest by Shin Sang-Ok:  An artist from Seoul visits the widow of a deceased friend in the countryside. The relationship between the friend's wife, her mother, and the artist is depicted with reference to their concerns about social disapproval.  The film is a 1961 South Korean film directed by Shin Sang-Ok. It is based on a best-selling novel by Chu Yo-Sup, and was awarded Best Film at the 1961 Asia Pacific Film Festival.
Ticket Information
Tickets will go onsale on Tuesday 1/20/15 at 10:00AM and are only available through Eventbrite — they will not be available at the box office.  They must be purchased by clicking this link or the ticket icon above, or by using the Eventbrite app.
Doors will open at approximately 6:00PM.  All seats are general admission.
Your Eventbrite ticket — either printed or displayed on your smartphone — is required for entrance.
If you are an SVA student, faculty, staff member, or Filmmakers Dialogue student, entrance for you and a guest is free.  If you are a student at another college, you may purchase up to two Student Tickets for yourself and a guest.  Please ensure that you have a current, valid ID with you, as you may not be permitted to enter without it.
All tickets are final sale.  There are no refunds or exchanges.
Concessions Information
Concessions are not available for purchase at SVA Theatre.  Guests are welcome to bring food and drink.  Glass bottles are not permitted.