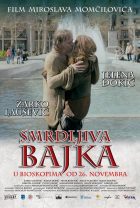 "A Stinking Fairytale" (Smrdljiva bajka) Screening
Sunday, November 20, 2016 8:00 pm
Event hosted by: SEE Art Fusion Project
Reserve Tickets
A screening of Smrdljiva bajka (A Stinking Fairytale) will take place at SVA Theatre on November 20, 2016.
SYNOPSIS
Moma je skitnica i pati od depresije. Ema je skitnica i lecila se od alkoholizma. Moma zivi u napustenim fabrickim pogonima. Ema zivi u sahtu. Ema se Momi dopala na prvi pogled. Moma se Emi dopao na drugi pogled.
****
Moma is a hobo and suffers from depression. Ema is a hobo and had been treated for alcoholism. Moma lives in the abandoned factory premises. Ema lives in the shaft. Moma liked Ema at first sight. Ema liked Moma at second sight.
***ENGLISH SUBTITLES
Click the ticket icon above for tickets and additional details.