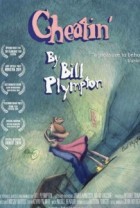 A Tribute to Animator Bill Plympton
Friday, September 18, 2015 8:00 pm
Reserve Tickets
As part of After School Special: The 2015 School of Visual Arts Alumni Film & Animation Festival, we are pleased to present a special screening of some of Bill Plympton's (1969 Cartooning) greatest works, followed by a Q&A with the award-winning master animator himself.  The evening will include Plympton's Academy Award-nominated short film Your Face (1987), the New York City premiere of the new short The Loneliest Stoplight (2015) featuring the voice of Patton Oswalt, the award-winning feature film Cheatin' (2013), and sneak previews of the upcoming films Hitler's Folly and Revengeance.  The Q&A will be moderated by current SVA student Steven Duffy (BFA 2016 Animation).  Following the screening and Q&A, a special signing with Plympton will be held in the SVA Theatre lobby.
The evening will be preceded by the New York City premiere of the short film Dime Crimes #34, by director Ed Hellman (MPS 2013 Live Action Short Film) and alumni from the MPS Live Action Short Film & BFA Cartooning departments.
All films shown during this screening are unrated by the MPAA.  Parents are strongly cautioned , some material may be inappropriate for children under 17, and children under the age of 5 will not be admitted.
To RSVP please click here or on the ticket icon above.
Ticket Information
All After School Special festival screenings are free and open to the public. General Admission RSVPs are appreciated, but not necessary. Seating is on a first-come, first-served basis. Doors will open approximately 30 minutes prior to each screening.
Concessions Information
A limited amount of free popcorn will be offered at all screenings.  Otherwise, concessions are not available for purchase at SVA Theatre.  Guests are welcome to bring food and drink.  Glass bottles and alcohol are not permitted.
Please contact [email protected] with questions.