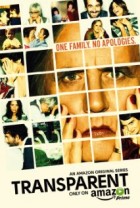 Amazon's "Transparent" Screening and Q&A
Saturday, September 19, 2015
Beatrice Theatre
2:00 pm
Reserve Tickets
As part of After School Special: The 2015 School of Visual Arts Alumni Film & Animation Festival, we are pleased to present a special screening of Amazon's Emmy-nominated comedy series, Transparent, featuring one of the show's associate producers and actresses, Zackary Drucker (BFA 2005 Photography).  Drucker, who will be on hand live via Skype from Los Angeles on the eve of the Emmy Awards, will present two of the show's Season One (2014) episodes, alongside some behind-the-scenes footage and a special webisode produced in conjunction with the series.  The Q&A will be moderated by current SVA student Samantha Mottola (BFA 2017 Photography & Video).  This screening is sponsored by NewFest & New York Women in Film and Television.
Synopsis:  An LA family with serious boundary issues have their past and future unravel when a dramatic admission causes everyone's secrets to spill out.  Starring Jeffrey Tambor, Judith Light, Gaby Hoffman, Amy Landecker, and Jay Duplass.
The screening will be preceded by the award-winning short film Away (2012) by Elisa Bates (MFA 2012 Design) and the experimental video How to Not Get Raped (2014) by Cat Del Buono (MFA 2008 Photography, Video and Related Media).
Transparent is rated TV-MA.  Parents are strongly cautioned , some material may be inappropriate for children under 17, and children under the age of 5 will not be admitted.
To RSVP please click here or on the ticket icon above.
Ticket Information
All After School Special festival screenings are free and open to the public. General Admission RSVPs are appreciated, but not necessary. Seating is on a first-come, first-served basis. Doors will open approximately 30 minutes prior to each screening.
Concessions Information
A limited amount of free popcorn will be offered at all screenings.  Otherwise, concessions are not available for purchase at SVA Theatre.  Guests are welcome to bring food and drink.  Glass bottles and alcohol are not permitted.
Please contact [email protected] with questions.