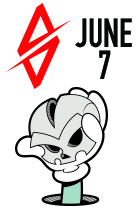 Animation Anarchy
Friday, June 07, 2019 6:30 pm
Reserve Tickets
Animation Anarchy (formerly Midsummer Night Toons) enters year 11 on Friday June 6 at the SVA Theatre. Featuring new short films from up and coming animators and a video game booth for the indie game #BLUD.
Sponsored by BFA Animation and Exit 73 Studios.
Open to ages 18 & up.
Doors at  6:30pm
Screening at 8pm
For tickets click here
For more information click here