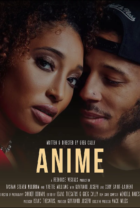 "Anime," Q&A Film Screening & Mixer
Sunday, October 21, 2018 3:30 pm
Reserve Tickets
"Anime," is a contemporary, urban love story set in New York City about a hip-hop A&R (West) who meets a seemingly perfect love-interest (Anime) but must decide whether to accept the truth about her past or risk watching his soulmate walk out of his life forever.
For more information about the film as well as the cast and crew visit www.AnimeTheFilm.com.
Ticket price is all-inclusive and covers all elements of the event including the open bar reception, the concessions, the screening and our Q&A session.
#AnimeTheFilm #RedhouseVisuals