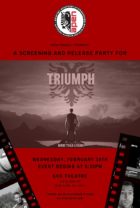 APEN: Screening and Release Party for Triumph
Wednesday, February 19, 2020 6:30 pm
Reserve Tickets
APEN member Kreshnik Jonuzi is a director and producer of Albanian descent. He, along with, Luftar Von Rama, also of Albanian descent and a director and editor, and Charlie Askew, six time Emmy Award winning director, cinematographer and editor, directed Triumph together.
Triumph explores the significant soccer match between Albania and Serbia which occurred on October 14, 2014. With Albanian fans not permitted to attend the game due to purported safety concerns, the stadium full of Serbian fans echoed racist chants and death threats. Tensions rose to a boil when a drone carrying an Albanian flag flew above the players and onto the pitch. Angry fans rushed the field, attacking the Albanian players and forcing the match to end. This documentary follows the Albanian National Team on their journey to their first EURO cup appearance, while also exploring a history of political tensions, war and genocide.
Our doors open at 6:30 PM. The screening party will be held from 6:30 PM to 8:00 PM where you can mingle with the APEN and Triumph teams, catch up with friends, and network with others. The documentary will be screened at 8:00 PM and will be followed up with a Q&A session with the Triumph team.