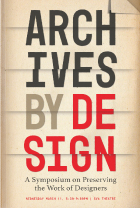 CANCELED – Archives by Design: Preserving the Work of Designers
Wednesday, March 11, 2020 5:30 pm
Reserve Tickets
Due to COVID-19, this event is canceled / postponed.  Stay tuned for further updates.
SVA announces a unique evening symposium exploring the best practices in developing and growing archives dedicated to the process and products of graphic design and illustration.
Hear from archivists and curators who oversee collections containing some of the most significant graphic design and illustration from the mid-20th century into the 21st, documenting the visual world that we experience every day.
The increase in design history scholarship has resulted in known and unknown designed artifacts available for in-depth examination for the first time by students and scholars. While graphic design, type and illustration archives are still rare, important new repositories for makers, movements, schools, genres and styles are up-and-running, and more are on the way.
This event is for archivists, curators, designers, researchers, scholars, critics and anyone interested in the preservation and accessibility of artifacts of design history.
Pre-registration is required.
Click here for more information and to register.