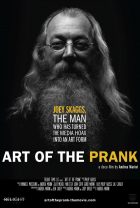 "Art of the Prank" Documentary Screening and Q&A
Monday, September 11, 2017 7:00 pm
Reserve Tickets
As part of After School Special: The 2017 School of Visual Arts Alumni Film & Animation Festival, we are pleased to present a special free screening of the documentary Art of the Prank (2017), followed by a Q&A with the film's subject, the godfather of the media hoax, Joey Skaggs (BFA 1982 Media Arts). Preceded by the short film Hello Norman (2014), co-written by Maëlle Doliveux (MFA 2013 Illustration as Visual Essay).  The Q&A will be moderated by current student Katy-May Hudson (MPS 2018 Directing).
Synopsis: Art of the Prank is an emotional and humorous journey following the evolution of Joey Skaggs, Godfather of the media hoax, as he tries to pull off the most challenging prank of his career. This is interwoven with amazing archive footage of his earlier escapades-all reported as fact by prestigious journalists. The resulting twists and turns provide unprecedented insight into Joey's work as an artist, activist and social satirist.
Art of the Prank is not rated by the MPAA, and some material may be inappropriate for children under the age of 13. Children under the age of 5 will not be admitted.
In honor of September 11th, Lance Cain's (1990 Film and Video) A Few Days After will be on view in the lobby before and after the screening.
Ticket Information
All After School Special festival screenings are free and open to the public. General Admission RSVPs via Eventbrite are appreciated, but not necessary, and do not guarantee admittance. Seating is on a first-come, first-served basis. Doors will open approximately 30 minutes prior to each screening.
If you would like to attend this event, but require assistive devices and/or accommodations, please email [email protected] or call 212-592-2980 at least one week prior.
Concessions Information
A limited amount of free popcorn and water will be offered at all screenings. Otherwise, concessions are not available for purchase at SVA Theatre. Guests are welcome to bring food and drink. Glass bottles and alcohol are not permitted.
Please contact [email protected] with questions. Guests subject to change.