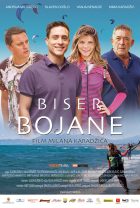 "Biser Bojane" Screening
Monday, June 05, 2017 6:30 pm
Reserve Tickets
BISER BOJANE , in Serbian with English subtitles
Two screenings: 6:30pm & 8:30pm
Djordje Popovic (played by Slaven Doslo), a young doctor from Belgrade, receives an anonymous call to meet his father. Up until that moment Djordje is strongly convinced that his father is dead, nevertheless he decides to give in to the adventure of discovering his own identity. He leaves for Montenegro and while traveling meets Lola (played by Vanja Nenadic), young kiteboarder, also a daughter of a police inspector, on her way to Ada Bojana. After many years of serving his sentence Nikola Popovic (played by Milutn Mima Karadzic) is coming out of the prison in Trst….
This screening is open to the public. Tickets are required and available for purchase on this link, or click the ticket icon above.
For more event details, please contact [email protected].