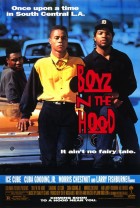 "Boyz N the Hood" 25th Anniversary Screening with John Singleton
Sunday, June 12, 2016 1:00 pm
Reserve Tickets
The Academy of Motion Picture Arts & Sciences and SVA Theatre present a 25th anniversary screening of Boyz N the Hood followed by a Q&A with director/screenwriter John Singleton, moderated by esteemed author Walter Mosley.
The film marked Singleton's feature film debut and earned him Oscar nominations for Directing and Original Screenplay. In the conversation, Singleton will offer insights into many of the film's iconic moments and how they still resonate in post-Ferguson America today.
About the film: Boyz N the Hood tells the story of three friends growing up in a South Central Los Angeles neighborhood, and of street life where friendship, pain, danger and love combine to form reality. The 'hood is a place where drive-by shootings and unemployment are rampant. But it is also a place where harmony coexists with adversity, especially for three young men growing up there: Doughboy (Ice Cube), an unambitious drug dealer; his brother Ricky (Morris Chestnut), a college-bound teenage father; and Ricky's best friend Tre (Cuba Gooding, Jr.), who aspires to a brighter future. In a world where a trip to the store can end in death, the friends have diverse reactions to their bleak surroundings. Tre's resolve is strengthened by a strong father (Larry Fishburne) who keeps him on the right track. The lessons Tre learns are put to the ultimate test when tragedy strikes close to home, and violence seems like the only recourse. Cast: Larry Fishburne, Ice Cube, Cuba Gooding, Jr., Nia Long, Morris Chestnut, Tyra Ferrell, Angela Bassett, Meta King, Whitman Mayo. Written and directed by John Singleton. Produced by Steve Nicolaides. Special thank you to Sony Pictures Entertainment.
Boyz N the Hood is rated R and runs 112 minutes.  Children under the age of 8 may not be admitted.
Doors will open approximately 30-45 minutes prior to the event.  Seating is general admission.
Ticket Information
Tickets are only available through Eventbrite here and will not be on sale at the box office in advance of the event.  Tickets may be available at the door one hour prior to the event, at 12:00PM, depending on availability.
Your Eventbrite ticket — either printed or displayed on your smartphone — is required for entrance.
Please note:  There are no refunds or exchanges. Late seating is at the discretion of management. There is a six ticket limit per person, per purchase. Please note, Q&A participants are subject to change.