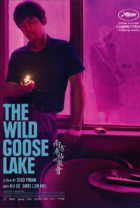 CineCina Film Festival: The Road
Thursday, October 31, 2019 6:30 pm
Reserve Tickets
CineCina proudly announces the second CineCina Film Festival (CCFF), the renowned New York-based film festival dedicated to promoting excellent international films, will open in Manhattan, from October 25 to November 3, 2019.
"The Road" under CineCina is a transnational film festival in New York City that features new and independent cinema from the national cinemas of East Asia, North Africa, Eastern Europe, and Southern Europe.
CineCina invites you to a Special Halloween Screening of "The Wild Goose Lake." It is about a gang leader on the run seeking redemption… A girl in trouble risking everything to gain her freedom… Both hunted on the hidden shores of The Wild Goose Lake. They set a deadly gamble for what may be their last day.
Language: Chinese | Subtitles: English
For more information and tickets, click here.