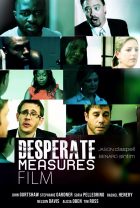 "Desperate Measures" Film Premiere
Saturday, July 08, 2017 7:00 pm
Craftline Productions presents a red carpet screening of
DESPERATE MEASURES
HOSTED BY YOUTUBE'S SENSATIONAL COMEDIAN CLIFFORD OWUSU
Doors open at 7pm
A man at the crossroads of his life must make sacrifices to survive after losing his job, fiancé and mistress which ends up costing him more than he'd anticipated. Three stories traveling on a common course to an unknown destination, fueled by desperate measures and sacrifices. What happens when the truth unveils? A little girl's life is saved, money is found and a marriage is dismantled but the end always justifies the means.
Dynamic drama about love, hate, and regrets. Most people often underestimate the power of karma while failing to realize no matter where they go or how far they travel, their past will eventually lead up to them.
"A solid, unpredictable three-tiered mystery drama"
Visit this link or click the ticket icon above for tickets and more information.