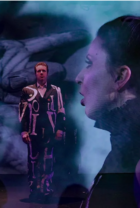 DIVIDE LIGHT: AN EXCLUSIVE OPERA FILM SCREENING
Thursday, April 18, 2019 8:00 pm
Reserve Tickets
Nohra Haime Gallery presents a one time exclusive premiere of "DIVIDE LIGHT," a film by Ed Robbins capturing the intimate production of an Opera created by Lesley Dill and composed by Richard Marriott. Inspired by the poetry of Emily Dickinson, the opera was performed in 2018 by New Camerata Opera, accompanied by The Curiosity Cabinet String Quintet, at Dixon Place in New York.
Divide Light examines the nature of emotion and story telling in contemporary society through the lens of Dickinson's 19th century philosophical poetics. It challenges and expands the traditional opera format through its sparser and more closely developed presentation. The opera features eight operatic voices, and a string quintet. Its striking visual elements feature large projections on a back screen of images combining Dill's edgy and evocative black and white photographs with text from Dickinson's poetry.
Click here for more info and tickets.
Doors open at 7:30pm.
Film begins at 8pm sharp.
Advance purchase required. No tickets will be sold at the door. Seating is limited, and on a first come first served basis.