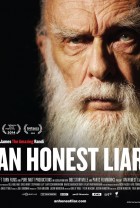 Filmmakers Dialogue Free Screening of "An Honest Liar"
Wednesday, March 04, 2015
Beatrice Theatre
7:00 pm
SVA & Ralph Appelbaum's Filmmakers Dialogue returns for the Spring 2015 semester!
Join us for a free screening on Wednesday, March 4th at 7:00PM, and mention this listing to receive $50 off Spring 2015 registration!
Filmmakers Dialogue, a School of Visual Arts continuing ed course, presents a semester's worth of Hollywood's hottest films and filmmakers, and we're inviting you to join us! On March 4th at 7:00PM, we'll be screening the award-winning documentary An Honest Liar, which follows the life of acclaimed magician James Randi. Following the film, Randi will be present for a Q&A.
Upcoming Filmmakers Dialogue advance screenings include Chappie, starring Hugh Jackman & Sigourney Weaver, and Cymbeline, starring Ethan Hawke & Ed Harris, followed by a Q&A with director Michael Almereyda. Recent screenings have included award-winning films and box office hits such as American Sniper, Unbroken, The Judge, Fury, Blackhat, and The Humbling, and recent guests have included Academy Award-winning directors Danny Boyle and Barry Levinson.
Click here for more info on Filmmakers Dialogue. If you're interested in joining us on March 4th, or if you'd like to register for the course at the discounted rate (available through Friday 3/6), please email [email protected]. Please note the number of tickets you'd like (up to two) in your email.  Seating is first come, first serve, and current Filmmakers Dialogue students will be guaranteed seats.