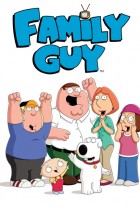 FOX's "Family Guy" & "Cosmos" Screening and Q&A
Sunday, September 20, 2015
Beatrice Theatre
2:00 pm
Reserve Tickets
As part of After School Special: The 2015 School of Visual Arts Alumni Film & Animation Festival, we are pleased to present a special screening of FOX's Family Guy & Cosmos: A Spacetime Odyssey (2014).  Join Kara Vallow (BFA 1985 Media Arts), executive producer of two of Seth MacFarlane's hit shows, for a special presentation of the two shows as you've never seen them before — on the big screen!  We'll screen the Season One pilot episode of Cosmos and a special extended sneak preview of the never-before-seen, soon-to-air Season 14 premiere of Family Guy.  Don't worry, you'll make it home in time for FOX's Sunday Animation Domination lineup.  The Q&A will be moderated by current student Silver Paul (BFA Animation 2016).
Family Guy Synopsis: In a wacky Rhode Island town, a dysfunctional family strive to cope with everyday life as they are thrown from one crazy scenario to another.  Featuring the voices of Seth MacFarlane, Alex Borstein, Mila Kunis, and Seth Green.
Cosmos Synopsis:  A documentary series that explores how we discovered the laws of nature and found our coordinates in space and time.  Starring Neil deGrasse Tyson.
The screening will be preceded by the short film The Dirty Birdy Redux (2014) by Academy Award-nominated animator John Dilworth (BFA 1985 Animation).
Family Guy is rated TV-14 and Cosmos is rated TV-PG.  Parents are strongly cautioned , some material may be inappropriate for children under 14, and children under the age of 5 will not be admitted.
To RSVP please click here or on the ticket icon above.
Ticket Information
All After School Special festival screenings are free and open to the public. General Admission RSVPs are appreciated, but not necessary. Seating is on a first-come, first-served basis. Doors will open approximately 30 minutes prior to each screening.
Concessions Information
A limited amount of free popcorn will be offered at all screenings.  Otherwise, concessions are not available for purchase at SVA Theatre.  Guests are welcome to bring food and drink.  Glass bottles and alcohol are not permitted.
Please contact [email protected] with questions.