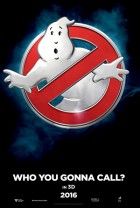 "Ghostbusters": A Sneak Preview with Screenwriter Katie Dippold
Monday, July 11, 2016 7:00 pm
Reserve Tickets
The Academy of Motion Picture Arts & Sciences and SVA Theatre presents a special preview screening of the new Ghostbusters.  The full film will be shown.
After the screening, co-writer Katie Dippold (The Heat, "Parks and Recreation," "MADtv") will participate in a discussion about adapting the screenplay from the 1984 original.
About the film: Ghostbusters makes its long-awaited return, rebooted with a cast of hilarious new characters. Thirty years after the beloved original franchise took the world by storm, director and co-writer Paul Feig brings his fresh take to the supernatural comedy, joined by some of the funniest actors working today , Melissa McCarthy, Kristen Wiig, Kate McKinnon, Leslie Jones and Chris Hemsworth. This summer, they're here to save the world!
Cast: Melissa McCarthy, Kristen Wiig, Kate McKinnon, Leslie Jones, Charles Dance, Michael Kenneth Williams, Chris Hemsworth. Directed by Paul Feig. Produced by Ivan Reitman, Amy Pascal. Written by Katie Dippold & Paul Feig. Based on the film Ghostbusters (1984), written by Dan Aykroyd and Harold Ramis, and directed by Ivan Reitman.
Special thanks to Sony Pictures Entertainment.
Ghostbusters is rated PG.  Children under the age of 6 may not be admitted.
Doors will open approximately 30-45 minutes prior to the event.  Seating is general admission.
Ticket Information
Tickets are only available through Eventbrite by clicking here or on the ticket icon above and will not be on sale at the box office in advance of the event.  Tickets may be available at the door one hour prior to the event depending on availability.
Your Eventbrite ticket "" either printed or displayed on your smartphone "" is required for entrance.
Please note:  There are no refunds or exchanges. Late seating is at the discretion of management. There is a four ticket limit per person, per purchase. Please note, Q&A participants are subject to change.