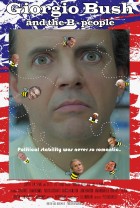 Giorgio Bush and the B-people
Thursday, September 24, 2015
Beatrice Theatre
7:45 pm
Event hosted by: Paolo Frassanito
A premiere screening….
In the Fall of 2006, Giorgio Frilli decides to leaves Italy, a country now ran by leftists, unionists and Berlusconi haters, and moves to New York City, where he believes, people love George W. Bush, their right-wing president. He couldn't be more wrong.  Directed, written, and starring Paolo Frassanito.
This event is by invitation only, however, a limited amount of free seats are available to SVA students with ID (two guests per ID will be admitted). Please RSVP to [email protected].