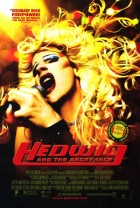 "Hedwig and the Angry Inch" Sing-Along
Monday, February 23, 2015 7:30 pm
Reserve Tickets
Please join the School of Visual Arts for a special sing-along screening of John Cameron Mitchell's iconic, cult classic movie musical, Hedwig and the Angry Inch (2001), shown on the big screen on 35mm film. A portion of the proceeds will benefit The Hetrick-Martin Institute.
The Hetrick-Martin Institute believes all young people, regardless of sexual orientation or identity, deserve a safe and supportive environment in which to achieve their full potential. Hetrick-Martin creates this environment for lesbian, gay, bisexual, transgender and questioning (LGBTQ) youth between the ages of 13 and 24 and their families. Through a comprehensive package of direct services and referrals, Hetrick-Martin seeks to foster healthy youth development. Hetrick-Martin's staff promotes excellence in the delivery of youth services and uses its expertise to create innovative programs that other organizations may use as models.
Film Synopsis: A transsexual punk-rock girl from East Berlin tours the U.S. with her band as she tells her life story and follows the former lover/band-mate who stole her songs. Hedwig and the Angry Inch is rated R. The film may not be suitable for children under the age of 17, and we ask parents not to bring children under the age of eight. Running time: 95 minutes.
We encourage you to dress like rock stars….  Put on some makeup & pull the wig down from the shelf!!
Ticket Information
Tickets are only available through Eventbrite by clicking here or using the Eventbrite app, and will not be on sale at the box office.
Doors will open at approximately 7:00PM. All seats are general admission.
Your Eventbrite ticket — either printed or displayed on your smartphone — is required for entrance.
If you are an SVA student, faculty, or staff member, you may purchase up to four SVA Tickets for yourself and your guests. If you are a student at another college, you may purchase up to two Student Tickets for yourself and a guest. Please ensure that you have a current, valid ID with you, as you may not be permitted to enter without it.
All tickets are final sale. There are no refunds or exchanges.
Concessions Information
Concessions are not available for purchase at SVA Theatre. Guests are welcome to bring food and drink. Glass bottles are not permitted.