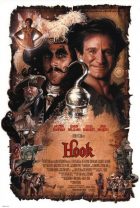 "Hook": A Free 25th Anniversary Screening
Saturday, December 17, 2016 2:00 pm
Reserve Tickets
As our holiday gift to you, SVA Theatre is presenting an entire day of FREE anniversary screenings on the big screen — "Hook", "Rocky", "Little Shop of Horrors", and "Scream"!  Please visit svatheatre.eventbrite.com for info on all four screenings.
Please join us for a special 25th anniversary presentation of Steven Spielberg's classic, "Hook", at 2:00PM.
Synopsis: When Captain Hook kidnaps his children, an adult Peter Pan must return to Neverland and reclaim his youthful spirit in order to challenge his old enemy. Directed by Steven Spielberg. Running time: 142 minutes. The film premiered on December 11, 1991. "Hook" is rated PG, and may not be suitable for children under the age of 5. Children under the age of 3 may not be admitted.
Ticket Information
Click here or on the ticket icon above to RSVP. This event is free and open to the public. Seating is on a first-come, first-served basis. Eventbrite RSVPs are not necessary for admission and do not guarantee seats. Doors will open approximately 45 minutes prior to the screening.
Concessions Information
Concessions are not available for purchase at SVA Theatre. Guests are welcome to bring food and drink. Glass bottles are not permitted.
Please contact [email protected] with questions.