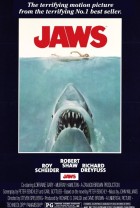 "Jaws": A 40th Anniversary Screening in 35mm Film
Saturday, June 20, 2015
Silas Theatre
8:00 pm
Reserve Tickets
Please join the School of Visual Arts for a special 40th anniversary presentation of Steven Spielberg's iconic, Academy Award-winning film, Jaws, shown on the big screen on 35mm film. The film premiered on June 20th, 1975.
Synopsis: When a gigantic great white shark begins to menace the small island community of Amity, a police chief, a marine scientist and grizzled fisherman set out to stop it. Starring Roy Scheider, Robert Shaw, and Richard Dreyfuss. Running time: 124 minutes.
Jaws is rated PG. (PG-13 was not an MPAA rating when the film premiered.)  Jaws may not be suitable for young children, and we ask parents not to bring children under the age of six.
Ticket Information
This event is free and open to the public. Seating is on a first-come, first-served basis. An Eventbrite reservation does not guarantee you a seat. General Admission RSVPs through Eventbrite are appreciated, but not necessary. Click here or on the ticket icon above to RSVP. You do not need to show your Eventbrite reservation for admission. Doors will open at approximately 7:15PM.
Concessions Information
Concessions are not available for purchase at SVA Theatre. Guests are welcome to bring food and drink. Glass bottles are not permitted.
Please contact [email protected] with questions.