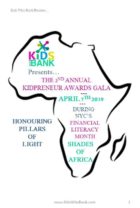 Kidpreneur Awards Gala 2019
Sunday, April 07, 2019 3:00 pm
Reserve Tickets
Kids Who Banks presents the 2nd Annual Kidpreneur Awards Gala 2019 in New York City.
During NYC's financial literacy month of April, Kids Who Bank has created an annual gala bringing recognition to youth who are entrepreneurs / philanthropists and the adults who have created paths for them.
For more information and tickets, click here.