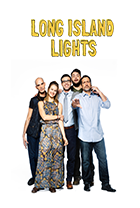 "Long Island Lights" Premiere
Sunday, June 12, 2016 6:00 pm
Long Island Lights is a comedic TV show about a group of misfits at an amateur production company on Long Island who learn life lessons as they stumble towards their idea of Hollywood success.
The show is seen through the eyes of James Agnelli, an uptight office worker, who after an embarrassing viral video and a quarter life crisis, heads back to his family home in Long Island where he finds himself teaming up with a truly amateur production company. The production company chases after fame in this age of frenzied social media where success seems only a click away. From a tanning bed commercial to a gay zombie feature film, every gig is an opportunity for the film crew to create videos that will go viral and get them closer to their idea of Hollywood success. As the series develops, we find that sometimes a little crazy can lead to unexpected success.
The show touches on the journey of self-discovery and following your passion in life. It also addresses the growing entertainment industry outside of Hollywood particularly in the Northeast and on Long Island.
Featuring Actors: AJ Scordio, Kevin Barbaro, Kristy Cloetingh, Martin Yurkovic, Niko Papastefanou, Bob Harris, Russell Jonas
To learn more about Long Island Lights by visiting their website or check them out on social media: Facebook; Instagram; IMDB; Twitter; YouTube.
Ticket Information
This event is free and open to the public. Seating is on a first come, first-served basis. Please RSVP through [email protected].
Concessions Information:
Free food, soda and water will be provided at the event. All proceeds from the sale of beer & wine will go to benefitting the Baiting Hollow Farm Horse Rescue.