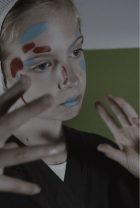 Loretta Fahrenholz: "Two A.M."
Wednesday, November 09, 2016 8:30 pm
Reena Spaulings Fine Art presents:
Two A.M.
40 min.
a film by Loretta Fahrenholz
Punky, streetwise Sanna (Theadora Davis) bridles at her aunt's traditional ways. Her adopted family are members of the Watchers, powerful information-obsessives whose unusual telepathic abilities and sociopolitical pretensions only manage to get on Sanna's nerves. But after she abandons the family home and her young lover for the city, her dream of a brilliant urban life quickly falls flat. From her half- sister Algin (Emily Sundblad), in despair over a faded singing career, to Algin's depressive and love-obsessed partner Lisko (Emile Clarke), to Hedy (Jim Fletcher), the splenetic, paranoid journalist who's inadvertently caught Lisko's eye, everyone in the big city seems to be totally wrapped up in their own serial dramas and star-crossed affairs. She quickly acquires a problem of her own when her lover, Franz (Andrew Kerton), reappears in the city along with her unpredictable, sinister Watcher sisters (Mira Partecke, Yuko Torihara). Sanna and her friends bounce from bar to bar towards a party that will bring everyone's minor ennuis and compulsive intimacies together with unforgettable results.
Adapted from Irmgard Keun's prophetic, blackly humorous novel about the rise of the Nazis, After Midnight (1937), Two A.M. follows the interlocking private passions and crises of a group of people at a moment when the larger social spring is wound so tight it could snap at any time, changing everything. JN
For more information, contact [email protected].