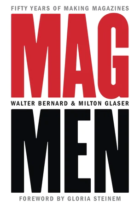 Mag Men: Fifty Years of Making Magazines
Tuesday, December 03, 2019 6:30 pm
Reserve Tickets
Walter Bernard, Milton Glaser and D-Crit alum Anne Quito discuss their new book, "Mag Men: Fifty Years of Making Magazines"
For more than 50 years, Walter Bernard and Milton Glaser have revolutionized the look of magazine journalism. In Mag Men, Bernard and Glaser recount their storied careers, offering insiders' perspectives on some of the most iconic design work of the 20th century. In this talk presented by MA Design Research, Writing and Criticism, they look back at some of their most important and compelling projects, from the creation of New York magazine to redesigns of such publications as Time, Fortune, Paris Match and The Nation, explaining how their designs complemented a story and shaped the visual identity of a magazine. Their talk will be moderated by the book's writer/editor and program alumnus Anne Quito.
This lecture is followed by a short Q&A and drinks reception, where you can take the opportunity to chat with the speakers as well as students and faculty of the program.
This event free and open to the public, but you must RSVP here to attend.