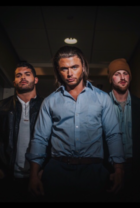 Mob Mentality Premiere
Wednesday, December 18, 2019 6:00 pm
Reserve Tickets
Locked and Loaded Films invites you to the Red Carpet Premiere of Mob Mentality.  
Mob Mentality is a 1-hour scripted crime drama that takes place during present day on Staten Island in New York City. Carmine, a former mobster sets out to rebuild his life after getting released from prison but his plans are derailed after a series of events thrust him back into a life of crime.
Click here for more information and to purchase tickets
Tickets can Only be Purchased Online and will not be sold at the door.