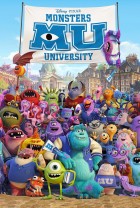 "Monsters University" in 3D with Disney•Pixar Artists
Saturday, September 19, 2015
Silas Theatre
4:30 pm
Reserve Tickets
As part of After School Special: The 2015 School of Visual Arts Alumni Film & Animation Festival, we are pleased to present a special free screening of Disney•Pixar's Monsters University (2013) in 3D, followed by a Q&A with past and present Pixar artists Ye Won Cho (MFA 2002 Computer Art), Andrew Dayton (BFA 1998 Computer Art), Christian Haniszewski (BFA 2009 Computer Art, Computer Animation and Visual Effects), Nancy Kato (MFA 1991 Computer Art), and Maria Lee (BFA 1988 Media Arts).  The Q&A will be moderated by current SVA student Jaime Klein (MFA 2016 Computer Art).
Synopsis: A look at the relationship between Mike and Sulley during their days at Monsters University — when they weren't necessarily the best of friends. The sequel to the family-friendly animated hit Monsters, Inc., Monsters University features the voices of Billy Crystal, John Goodman, Steve Buscemi, Alfred Molina, and Helen Mirren.
The film will be preceded by the animated short Quiet (2015) by Kyle Samuels (BFA 2012 Animation).
Monsters University is rated G and is appropriate for all ages.  Bring the entire family!
To RSVP, please click here or on the ticket icon above.
Ticket Information
All After School Special festival screenings are free and open to the public. General Admission RSVPs are appreciated, but not necessary. Seating is on a first-come, first-served basis. Doors will open approximately 30 minutes prior to each screening.
Concessions Information
A limited amount of free popcorn will be offered at all screenings.  Otherwise, concessions are not available for purchase at SVA Theatre.  Guests are welcome to bring food and drink.  Glass bottles and alcohol are not permitted.
Please contact [email protected] with questions.