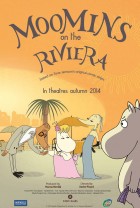 "Moomins on the Riviera" NY Screening
Wednesday, December 09, 2015 6:30 pm
A special, for-your-consideration private screening of Moomins on the Riviera took place at SVA Theatre on December 9, 2015.
From http://moominsontheriviera.com/:
In 2010 Finnish film producer-director Hanna Hemilä and French animation film director-producer Xavier Picard joined forces and collaborated on developing Moomins on the Riviera. Based on Tove and Lars Jansson's books "Moomin, the complete Tove Jansson Comic Strip", the film celebrates the universally loved characters in their original context.
'Moomins on the Riviera' is created in a unique hand-drawn animation technique inspired by the original comic strips. The animators are using a reduced color scale for the backgrounds to carefully adapt the strips for a modern audience while maintaining the original feel of the black-and-white comic strips.
A film for all audiences, the Moomins embrace cross-cultural understanding and tolerance. Addressing universal themes such as finding joy in the small things in life, family, and optimism, 'Moomins on the Riviera' is sure to resonate with viewers around the world.