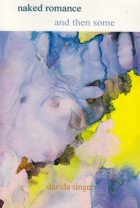 naked romance and then some
Friday, March 25, 2016 7:00 pm
SVA Humanities and Sciences presents a multimedia performance combining poetry, music and visuals, with faculty member and poet Davida Singer performing poetry from her collection naked romance and then some.
Guests include Douglas Cardwell (drums), Ken Filiano (bass), Lisa Gutkin (violin), Frank London (trumpet), John Rangel (piano) and Nicole Schmölzer (visual artist).
This event is free and open to the public.