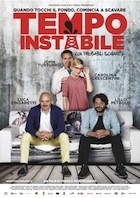 New Italian Cinema Events: Opening Night
Friday, November 20, 2015
Beatrice Theatre
6:30 pm
Reserve Tickets
The 25th N.I.C.E. – New Italian Cinema Events – presents two free screenings!
6:30PM:  The U.S. premiere of Marco Pontecorvo's hit comedy "Partly Cloudy (With Sunny Spells)" starring John Turturro, Luca Zingaretti, Carolina Crescentini, and Lillo Petrolo.  The screening will be attended and introduced by director Marco Pontecorvo and a special guest star.
9:00 PM:  Edoardo Falcone's playful comedy-drama "God Willing" (Se Dio Vuole) starring Alessandro Gassman, Marco Giallini, and Laura Morante.  This film won the 2015 David di Donatello award for Best New Director.
The event is free and open to the public on a first come, first served basis and upon registration on our eventbrite page. Please arrive early, as RSVP'ing does not guarantee admission.  Please click here or on the ticket icon above to RSVP.