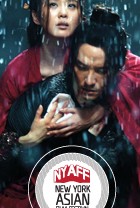 New York Asian Film Festival 2015
Thursday, July 09, 2015 -
Saturday, July 11, 2015
Reserve Tickets
Welcome to the 14th edition of the New York Asian Film Festival (NYAFF). We're back with 54 feature films, including 2 World Premieres, 3 International Premieres, 14 North American Premieres, 5 U.S. Premieres, and 12 New York City debuts. The festival will be attended by 18 international filmmakers and celebrity guests traveling from Hong Kong, Japan, South Korea, Taiwan, and the U.S., headlined by this year's NYAFF award recipients: Hong Kong's legendary director Ringo Lam (Lifetime Achievement Award), Hong Kong superstar Aaron Kwok (Star Asia Award), and Japanese actor Shota Sometani (Screen International Rising Star Award).
After eight successful years of partnership with Japan Society's Japan Cuts: Festival of New Japanese Films, this year's diverse selection of Japanese films have been fully integrated with the rest of the Festival's program, and SVA Theatre has been added to the list of venues. With three days of screenings at the SVA Theatre (June 9-11), we are able to bring downtown audiences the biggest and boldest of Asian cinema's grand spectacles""sensory feasts that deserve to be experienced on the big screen (such as Brotherhood of Blades, The Royal Tailor, The Taking of Tiger Mountain 3D, and Vengeance of an Assassin).
For tickets to SVA Theatre screenings, click the ticket icon above or visit http://www.universe.com/subwaycinema.
For general festival information, visit http://www.subwaycinema.com/nyaff15/.