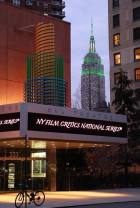 New York Film Critics Series Screening of "Breathe In"
Monday, March 17, 2014 7:30 pm
Reserve Tickets
Soulful and musical British exchange student Sophie Williams (Felicity Jones) comes to New York in search of inspiration. On the surface, Sophie's host family seems happy enough, but with her arrival to the Reynolds' Upstate New York home, the private struggles of each family member begin to bubble. In particular, frustrated musician-turned-piano-teacher Keith Reynolds (Guy Pearce) finds long suppressed dreams and desires reignited by Sophie's talent and inquisitive nature. While Keith's wife, Megan (Amy Ryan) and daughter, Lauren (Mackenzie Davis) focus on Lauren's final year of high school, Sophie and Keith are drawn ever closer by their mutual longing for creative expression. Ultimately, Sophie and Keith must confront how much they are willing to sacrifice and what they truly want out of life. It is directed by Drake Doremus (Like Crazy).
Each movie in the Screening Series will be preceded by thrilling footage of New York City and live introduction by Peter Travers of Rolling Stone Magazine. Audiences will then the film prior to its nationwide release, followed by live Q&A between Travers, the audience, and talent from the film.
Please visit www.nyfilmcriticsseries.com for tickets and information.