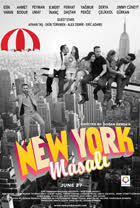 "New York Masali" Turkish Romantic Comedy
Tuesday, June 27, 2017
Reserve Tickets
The new romantic comedy Fairytale of New York (New York Masali) is a real milestone for the Turkish movie industry, as it is the first Turkish-American film completely produced in the USA. The purpose of this project was to support the development of Turkish cinema in the international arena. Brooklyn Borough President Eric Adams, celebrated Turkish actor, Ayhan Tas, and renowned Turkish actress, Ekin Turkmen, all acted in the movie and thereby supported us. Turkish singers Soner Sarikabadayi and Ismail YK permitted us to use their popular songs in our movie, too.
Directed by "DoÄŸan Özmekik" and written by "Nilüfer YenidoÄŸan Özmekik", the film was produced by the Deputy Mayor of Paterson, NJ, Derya TaÅŸkın, a young Turkish businesswoman living in the U.S.. The actors in the film are Ahmet Bodur, Esin Varan, fashion designer Peyman Umay, Mert Ä°nanç, Ferhat DaÅŸtan, YaÄŸmur Peköz, Derya Çelikkol, Alex Demir, and Jimmy Cüneyt Gürkan.
Fairytale of New York will be shown on June 27th, 2017 at 6:15pm and 9:00pm.
Doors will be open 30 minutes before the screenings begin. Please bring your ticket with you.
For more information, click the ticket icon or visit the links above.