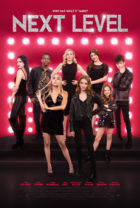 Next Level NYC Premiere Hosted By Taylorz
Sunday, September 08, 2019 5:00 pm
Reserve Tickets
Next Level NYC Premiere Hosted By Taylorz
MarVista Entertainment is excited to announce that they are bringing NEXT LEVEL to NYC!
Next Level is a feature film starring Lauren Orlando, Emily Skinner, Hayden Summerall, Chloe East, Brooke Butler, Will Simmons, Ellarose Kaylor, and Chloe Lukasiak.
You are invited to attend the screening of the film hosted by TAYLORZ. With your RSVP, you will be able to see the film, meet the cast, and shop the Taylorz Pop Up!
5:00pm – 8:00pm
To RSVP click here.