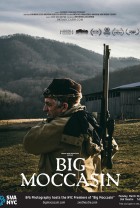 NYC Premiere of "Big Moccasin"
Monday, March 30, 2015
Beatrice Theatre
7:00 pm
Free and open to the public.  No RSVP required.
Screening followed by Q&A from filmmakers Andrew Moynehan (an alumnus of SVA's PhotoGlobal program) and Chelsea Moynehan (BFA 2012 Photography).
Big Moccasin, is the first feature from Brooklyn-based husband and wife duo, Chelsea and Andrew Moynehan. The film won the Programmer's Award for Best Documentary Feature at Virginia Film Festival. It has screened at festivals worldwide including Visions du Réel, Raindance, New Orleans Film Festival, and Cleveland International Film Festival.  Featuring an original bluegrass score by Tennessee band, Folk Soul Revival, recorded by Grammy award winning Maggard Sounds.
Four residents of an Appalachian Valley relay their stories of rural American living.
'Big Moccasin' tenderly portrays the lives of four residents of an Appalachian Valley in an effort to uncover sidelined American stories. The twenty-five mile stretch of road in Virginia is brimming with tales of the Civil War, the Great Depression, and the undying affection the inhabitants feel for the very land itself. The anxieties of people who are removed from mainstream society are exposed and a complex collage of tradition, faith and friendship is created. Guided by husband and wife team, Chelsea and Andrew Moynehan, we learn that there is much to discover in this pocket of America; 'Big Moccasin' is a hub of community, music and nature. A charismatic quartet made up of Mouse, Polo, Steve Burke and Geraldine Frazier lead us through the film and demonstrate the duality of the place they call home through their individual stories. Overflowing with anecdotes of neighborhood grudges, high school pranks and unwavering belief in God, 'Big Moccasin' is revealed to be an isolated space, as well as one that provides a rich community with an independent identity.