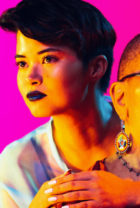 NYC Pride: GameChangers 2019
Tuesday, June 25, 2019 6:00 pm
Reserve Tickets
NYC Pride's GameChangers, in partnership with GLAAD and SVA Theatre, is a thrilling event that focuses on leaders of the LGBTQIA+ community and how they have ultimately changed the game in the entertainment industry.
It will be a night of great discussion while also celebrating the successes of those that have paved the way and continue to impact change.
With a curated Q&A after the panel discussion, a networking reception will follow to end the evening.
Actors George Takei and Trace Lysette and model Leyna Bloom join the panel at GameChangers.
Click here for more information and tickets.