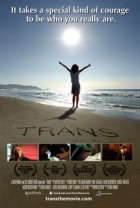 NYC Pride Presents the NYC Premiere of "Trans"
Sunday, May 03, 2015
Beatrice Theatre
4:00 pm
Reserve Tickets
"TRANS" is an extraordinary documentary feature film about men and women"and all the variations in between. It is about the Transgender Community, perhaps the most misunderstood and mistreated minority in America and around the world. Inspired by the incredible story of Dr. Christine McGinn, (herself a "transwoman") and her important work as a transgender surgeon, TRANS provides an up-close and very personal vision into the lives, loves, and challenges of a remarkable cast of characters of all ages and from all walks of life.
We will meet 7-year-old Danann Tyler and her parents as she boldly sets forth on a long and complex journey. We will meet Cris, a biological female who is just discovering "his true gender identity." We will follow Pam and Erica, through surgery and beyond, as they discover the thrill and the heartbreak of transitioning late in life and risking everything to be able to be "their authentic selves." We will witness the tragedy of a teenage "male to female" who has lost her way. From the dark and dangerous streets, to the quiet sanctity of the Operating Room, TRANS will take you into a world you have never before imagined. There you will see stories of confusion and courage, excitement and emotion that have never been told""until now. Stories that will open both the mind and the heart.
To anyone who ever looked in a mirror and wondered, "who they really are?"
TRANS asks another question""are you brave enough to find out?"
This event is free and open to the public, but an RSVP is required.  Please click this link or the ticket icon above to RSVP.