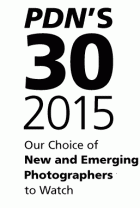 PDN's 30 2015
Wednesday, September 23, 2015
Beatrice Theatre
6:30 pm
Reserve Tickets
PDN's 30: Strategies for Launching – and building – a career in today's market.
Photographers selected for PDN's 30 2015: New and Emerging Photographers to Watch will share the most valuable lessons they learned as they launched their careers, and explain how they received recognition and support.  They will discuss successful strategies for building a supportive network, gaining exposure, honing their artistic voices, getting practical help on business issues, and the challenges of starting a photography career in a competitive market.
Reception from 6:30PM-8:00PM
Seminar from 8:00PM-9:00PM
Free and open to the public.  No RSVP required.
More info at http://www.pdns30.com.