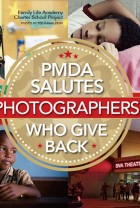 PMDA Salutes Photographers Who Give Back
Tuesday, November 10, 2015
Beatrice Theatre
5:30 pm
Reserve Tickets
The PhotoImaging Manufacturers and Distributors Association (PMDA) in conjunction with PDN magazine and the School of Visual Arts will honor three professional photographers and one student photographer who have used their talents to give back and heighten awareness of their selected charities. The special event, featuring presentations by honorees Tamara Lackey, Colby Brown and Ted Kawalerski, will take place at the SVA Theatre in New York City on October 5, 2015. Sony artist Ben Folds will serve as Master of Ceremonies.
The honorees and their chosen charities include Colby Brown (The Giving Lens), Tamara Lackey (Beautiful Together) and Ted Kawalerski (Family Life Academy Charter School Project). In addition, one student photographer from the School of Visual Arts will also be recognized for their giveback effort.
The October 5th event will include presentations by each of the photographers followed by a Q&A panel discussion and a networking cocktail party.
Admission is complimentary, but seating is limited, and all those wishing to attend must pre-register at rsvptopmda.com.
This event was originally scheduled for 10/5/15, but was postponed due to inclement weather.