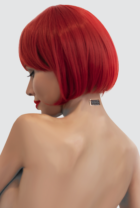 Premiere of "2050"
Thursday, February 14, 2019 6:45 pm
Reserve Tickets
Celebrate the premiere of 2050 this Valentine's Day with our cast and crew! Join the cast and crew at our red carpet beginning at 6:15pm (film at 6:45pm). There will be a short Q&A after the film, and a reception with drinks will follow afterwards.
Film synopsis: A married video game developer is introduced to a warehouse that customizes androids for human companionship.
Click here to purchase tickets.